Coruscate Monthly Celebration Broadcast (Episode:1)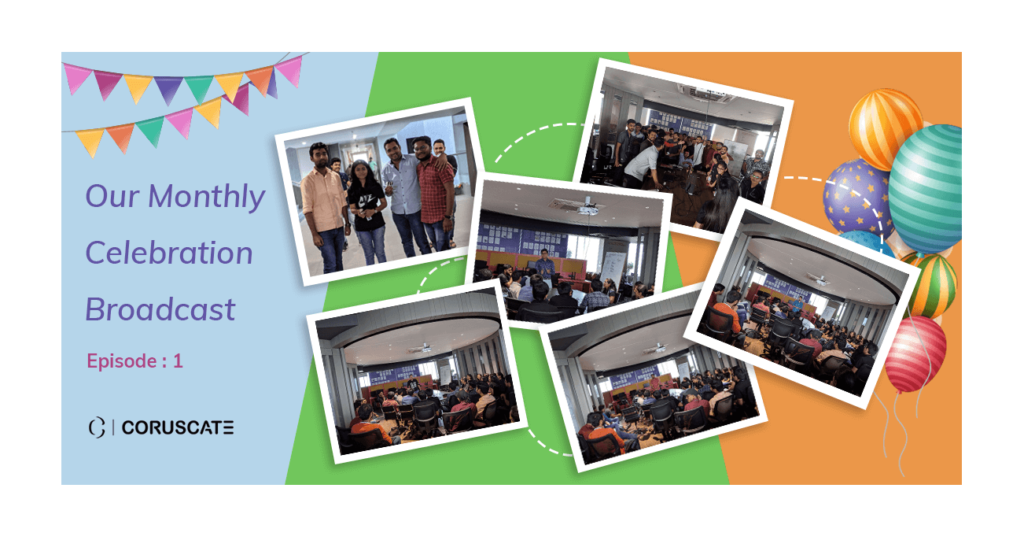 What makes a company unique, especially an IT company where every day we come across many new problems and knuckle down to solve each of them?
Of course, the culture of it.
We can relate the company culture with vision, values, norms, system, symbols, and habits a company owns. It can be anything which provides an opportunity for employees to be de-stressed.
Too often business owners and Managements think that keeping employees engaged in the work for 8 to 9 hours in a day and for at least 5-6 days in a week is the best way to increase productivity. However, studies over the last 20 years unwrap the fact that when employees are working in a fun work environment, they become happier and a happy person can work more efficiently than the exhausted person.
We, at the top IT company in Surat, follow the same philosophy. We understand the gravity to create a relaxed environment where employees can let their hair down. We don't want our employees to sigh as they shut their car door and approach elevator to get into office. Thus, we organize many fun activities on the last Saturday of every month.
How Coruscate – Top IT company in Surat, celebrate the last Saturday of every month?
Coruscate Solutions which is the top IT company in the Surat is driven by very young people. This very young yet experienced Management Team collaborates with the Team Leaders and Directors to arrange many activities which enable everyone to get out a hidden kid we all are living with, deep into our soul.
These activities include very high-spirited games such as Treasure Hunt and Magic Chairs. These games not only make employees feel relaxed, but it cultivates the skill of working in the team, regardless of the complexity of the projects. Because of the games, they can know more about each other which will eventually make them feel less hesitated to ask help from another employee. We also distribute the gifts to the winner of every game. Gifts enhance their motivation and give them the positive psychological effects of winning that reflect in their both professional life and personal life.
We also organize a 'talk to teams' season where every new employee of the company talks about his background and previous experience with every other employee. The motive behind this very engaging activity is to create a work environment where everyone can chill out with every other employee whenever needed.
We respect those employees who work even on their birthday. So, we celebrate their birthday with the teams and make it the most memorable day of their life.
We, at the top IT company in Surat, not only make fun out of games and birthday celebrations but our razor-sharp Team Leaders and CEO talk with employees on some futuristic ideas, groundbreaking technologies, and worthy life-lessons.
Here is the glimpse of last Saturday's celebration.
Currently, we are accepting job applications at a Top IT company in Surat for various roles. To check the eligibility and vacancies, visit our Career page and seize a golden opportunity to work in the best IT company, having the best culture.