Coruscate Monthly Celebration Broadcast (Episode:2)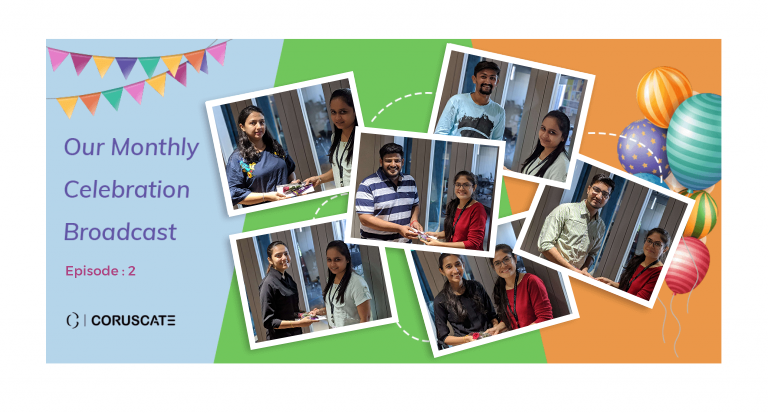 We treat Coruscate as a human and every human has hobbies, so does Coruscate! Coruscate has the hobby of letting employees have fun while engineering some pioneering mobile apps and software. 
We, as the top IT company in Surat, celebrate last Saturday of every month with a bang to loosen up our minds and realize who are we when we are not acting the world-class problem solvers. We usually celebrate in the groups and this is what makes our monthly celebration more stress-busting. Last Saturday we carried out our monthly celebration and here is how we have followed our company's legacy. 
How Coruscate, top IT company in Surat, celebrated the last Saturday of November month?
One of the benefits of having young leaders is their positive attitude towards high-spirited games, unique group activities and a very warm welcome to the new employees. And recently, we experienced it! 
Our monthly celebration was started with team formation. This time, we followed the straightforward approach and formed the team according to technologies people are working in. Since we are currently expanding and hiring many new people, we first arranged a session where team leaders belonging to each technology briefed their team members about the hiring criteria. This was done to spread knowledge about the opportunity to everyone's friends and family members in order to do justice with the local talent in the best possible way. 
We then moved to the most important activity of our monthly celebration which is the introduction of new employees. We hired 9 new faces in the month of November, at the top IT company in Surat. We gave them a mic, 15 minutes of time and a chance to introduce themselves and share their hiring as well as working experience. The underlying purpose behind asking new talents to introduce themselves was making them comfortable with other people in the company so that they could freely talk to each other and get the support of seniors to cultivate their skills. 
And then, we did something which an IT company generally never does. We spoke about social issues. We asked team members to put forth their points on different social issues such as women's safety, dowry system, and gender inequality. Through this session, we came to know that developers who play around machines the whole day have very soft hearts and some of the best ideas to tackle the issues as well.
We also played some challenging games. One of the games we played was all about deciding either an occasion or location and then revealing decided occasion or location name by just asking questions to each other. Winners were awarded with many exciting prizes.
Additionally, we presented awards to achievers in different categories. In order to make other employees aware of the knowledge, approach and mindset it requires to be an achiever, we asked all achievers to share their journey and their course of action. Indeed, it was the most motivational part of the celebration. 
And at last, it was the cake cutting ceremony for the employees who had their birthdays in the month of November and were the blessed members of the Coruscate family!
Here is a glimpse of our monthly celebration: 
At the top IT company in Surat – Coruscate – we are currently hiring Node.Js, Flutter, PHP and React.Js developers. So, if you have suitable skills and want to be part of such an awesome company, please note that we are going to arrange walk-in-interviews for the mentioned roles between 8th to 15th December.  You can also apply online.  
Node Js developer job in Surat – Apply here. 
Flutter developer job in Surat – Apply here. 
PHP developer job in Surat – Apply here.
React.Js developer job in Surat – Apply here.