Coruscate Monthly Celebration Broadcast (Episode: 4) – All about to know self-worth – Auction for "Coruscate Sports League – 2020" – Team building games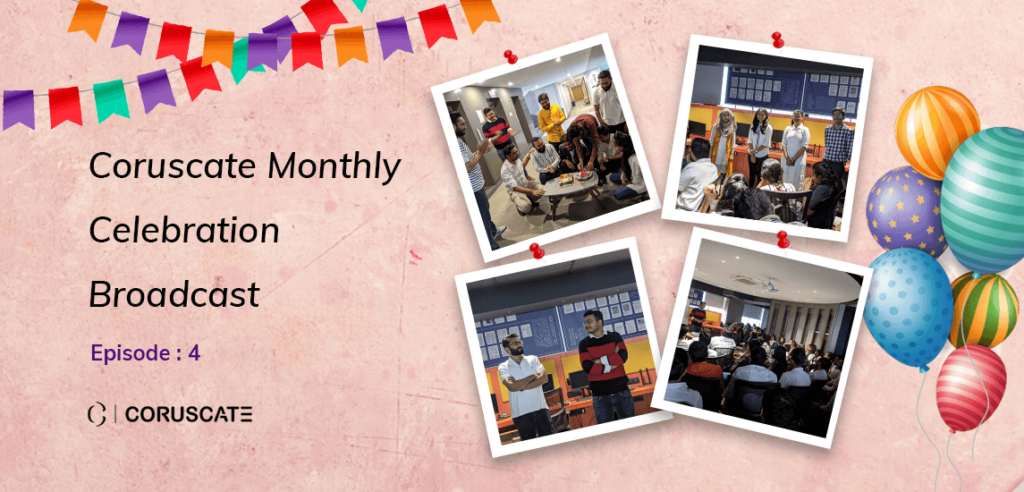 We hope you are getting a thrill out of our special series of blogs where we share how we at the best IT company in Surat celebrate the last Saturday of every month. 
We've come so far and seen many earth-shattering results since the first time we carried out our first monthly celebration event. Highly elevated team spirit, a mindset to perform better than yesterday, and an unbelievable affection towards the workplace are some of the very impressive results which matter a lot to our leaders as well as team members. 
Last Saturday, we organized a monthly celebration event for the January month and put the pedal to the metal to loosen up our gilt-edged minds. 
» Republic Day Celebration (09:04 am to 10:17 am) 
On 26 Jan 2017, Coruscate team took an initiative to play our national anthem every day in the office at 9:30 AM.
Since India's 71st Republic Day was around the corner, we kicked off a day-long event with a republic day celebration. We also sang our national anthem together and it was a once-in-a-lifetime moment when 100+ developers roared together on Republic Day for the pride of the country.
» Session on self-management (10:20 am to 12:45 pm) 
Soon after that, two major backbones of Coruscate, Mr. Mahendra Bhavani (Chief Analyst) and Mr. Vishal Virani (CEO) gave a very insightful session on self-management. They first made team members familiar with the actual meaning of self-management which is nothing but the ability to prioritize goals, decide what must be done, and be accountable to complete the necessary actions. And then they revealed the top principles of self-management which include, honesty, commitment, and self-identity. The session was so breathtaking that we are anticipated to see major changes in the life of almost all team members who actually believe that self-management is the skill every working person should cultivate. 
» Introduction of new squad members (12:49 pm to 2:18 pm)
As we are on a path of growing our Coruscate family, we have strengthened our team by adding 15 new members in the month of January. For the sake of making them comfortable and letting them share their course of action with other employees, we gave them a mic to speak about themselves and their achievements. As a people-driven company, we love to call every employee by his name and we love to see team members behaving with each other as friends and not as the competitors.    
Surprisingly, Mr. Mahendra Bhavani (Chief Analyst) and Mr. Vishal Virani (CEO) also introduced themselves and shared their many inspirational incidents. They have answered many questions of the team members and so, team members got a chance to know so many unknown things about our leaders. 
Coruscate Sports League Auction – 2020 (02:50 pm to 3:45 pm) 
After the small break, we all gathered again and headed towards the much-awaited part of the monthly celebration event. Since we are going to organize a Coruscate Sports League – 2020, we wanted every sponsor to earn players for their team. Thus, we planned out Coruscate Sports League Auction – 2020', in which 5 sponsors (our CxO) bid for 85 players to build a team of 17 players. 
Each sponsor was given 1000 points to buy 17 players using a maximum of 1000 points. The base price for each player and minimum bid points were set to 30 points. Sponsors needed to pay higher than other sponsors for their favourite players. 
The auction went really well and finally; we came up with 5 sparkling teams with 17 players each. We have already scheduled Sports Day on Sunday, 2nd February 2020 and been planning to play multiple games including Cricket, Kabaddi, Kho-Kho, and Badminton. There will be some indoor games too. 
Taking team spirit to the next level and reliving our precious childhood memories are the two major underlying purposes behind organizing Coruscate Sports League – 2020.  
» Playing team-building games (3:49 pm to 04:57 pm) 
Later, we played many team-building games. Like always, the games were so unique that you have not played such games unless you are a Coruscatian! 
To save time, we didn't build separate teams for games when we already had teams after Coruscate Sports League Auction. 
The first game we played was the 'Quiz'. Every team was asked basic questions on our Indian constitution. 
The second game we played was "Guess The Duck" which is the best team-building game.  After the first two games, A team earned 40 points, the B team earned 30 points, the C team earned 50 points, the D team earned 40 points and the E team also earned 40 points.
Since the B team ended with the lowest points at the end of both games, it was disqualified and we got 5 semi-finalists.  
To get the winner, we played the last game which was 'Try Not To Laugh'. After the first round of the game, we got two finalists – Team D and Team E – and after the final battle, we got our ultimate winner which was Team D! 
More aggressive teamwork was the only reason why Team D seized the victory! 
» Birthday celebration (05:04 pm to 5:31 pm)
At last, we cut the cake and celebrated the birthdays of all team members who took the first breath in the month of January.

Want to work at Coruscate – the best IT company in Surat? (We're hiring!)
Coruscate is the top IT company in Surat which always hires local talents to address global issues. We offer contract-free entry, free drinks & snacks, free study resources, medical package, and an opportunity to work with global clients.
To check the current job openings and apply online, visit our Career page.