Coruscate Monthly Celebration Broadcast (Episode: 3) – Our New-Year's Resolution – WORK IN A TEAM TO ACHIEVE IN BULK!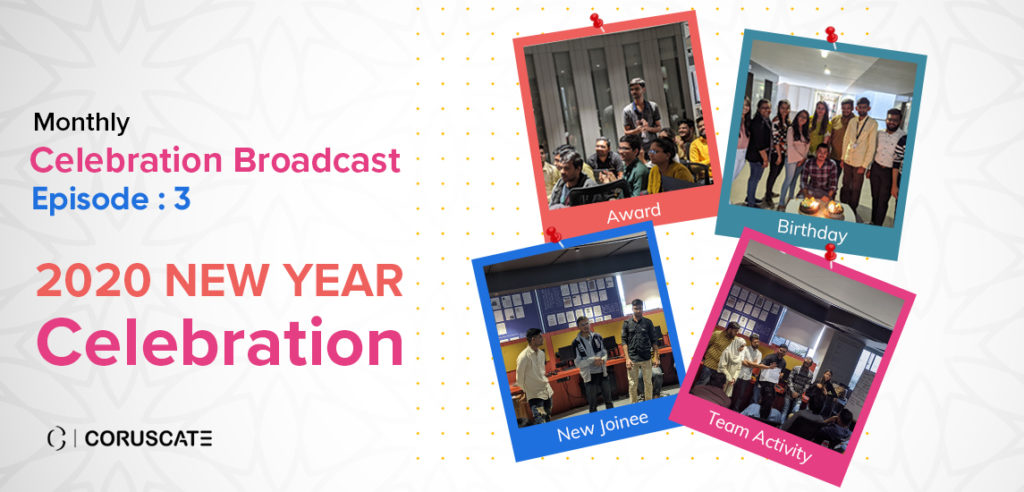 Within just 6 years of inception, Coruscate has become the top mobile and web development company that accommodates 100+ developers & designers has delivered 200+ successful projects with the highest-ever success rate and has completely conquered the FinTech and micro-mobility industries. Do you know the reason? – it is teamwork! Because when everyone is moving forward together, success takes care of itself!
However, spreading the knowledge about the benefits of teamwork and sharing practices to develop a sense of working in a team with 100+ developers and designers itself is a tedious and time-consuming task. So, we always keep the team-building practice in the center while planning the activities for the Monthly Celebration to make them understand the benefits of working in a team in a very different way.
Coruscate Monthly Celebration Broadcast (Episode: 3)
On 1st January 2020, we carried out our 2019's last Monthly celebration event and this time, we truly nailed it with an extraordinary game that helped our 100+ developers and designers to have the practical knowledge of the benefits they can derive if they work in a team.
You haven't ever played such an interesting game unless you are a Coruscatian!
For the games we generally play during our monthly celebration event, we call for suggestions from our team members. This time, one core member of our AI team came up with a very engaging, technical as well as non-technical game idea.
The game was all about how a leader can come out with the best outcome by working with the team. The major activities involved in the game were deciding a startup idea, giving a technical explanation of that startup idea, drafting a script of failure or success story of the startup idea and presenting a small movie or a play on that prepared script. This is indeed a very unique game. Isn't it?
» The agenda of the game:
An IT industry is considered as one of the toughest industries to work. We sometimes spend more than 100 hours to accomplish a single task which is having the potential to revolutionize the business models of many other businesses. We every day collect the strength and fight an uphill battle. But to win every day, we need fresh positive energy which we find when we are together celebrating togetherness and playing games in a team.
The agenda of the games we play during the Monthly Celebration event has always been the same. Through the games of the Monthly Celebration event, we always want our employees to loosen up, develop a team spirit, think differently, learn something new, craft additional skills, and enjoy the beautiful life.
How we reinvented the team forming methodology?
Team forming was the fundamental requirement to play the game we have discussed above. But we didn't follow the conventional and very straightforward team forming technique. Instead, we chose an exciting one.
5 Commanders of the 5 different departments of the organization were allocated 100 credit points and asked to 'buy' team members by spending the credit points. But there was a twist. Leaders now had to present their startup ideas & play with the team which they can only buy using their credit points. To make it thrilling, we allowed every commander to bid for the members they want to be in their teams.
That unique team forming idea was so successful that all enjoyed it more than the game itself!
» Evaluation criteria:
Evaluation criteria draw a line between winner and loser. So, we decided the evaluation criteria very precisely. We documented the different evaluation criteria for the three major activities of the game – Startup idea, Pitch presentation and Play.
For Startup idea, the Jury has taken TEAM PLANNING, INVOLVEMENT and VALIDATION of PLANNING into account to score the team.
Talking about the pitch presentation, every team was evaluated based on three characteristics – EXTRAORDINARY, UNREALISTIC and INNOVATIVE.
And for the Play, Jury considered STORY, DRAMA, EXCITEMENT, AND INVOLVEMENT to score teams.
» The outcome of the game:
The result should always be fruitful and it was, at least in our case!
We've got to know what an app developer can think when he is not working on his computer. We've got 5 really disruptive startups ideas.
The startup idea of the .NET team was creating an IoT enabled helmet which takes anyone to any place in the universe. They named this startup idea 'Two Worlds Apart'.
Node team exhibited another revolutionary startup idea. They suggested making a machine which automatically prepares the clothes within no time. All a user has to do is give the fabric and computer command as the input! They named this startup idea 'Instant Designer'.
The Mobile team manifested an idea of selling liquor online and named it Bewada.com. And the PHP team came up with an idea of building software anywhere and anytime. They named this idea 'BuildYourOwn Software'.
Last but not least, the Analysts team displayed a startup idea to create a rehabilitation center for IT professionals. The rehabilitation center consists of capsule rooms having soothing music and lighting effect and a frustration room where anyone can break things to release anger or stress and online or offline psychiatrist consultancy. They also mentioned that anyone interested in the capsule room can book it through the mobile app.
» And the winner is ….
As anticipated, all 5 teams put forth great startups ideas, gave extensive pitch presentation and entertained people through their hidden acting skills. But the winner was the Node team which presented an idea which has the potential to change the future of mankind.
 
Catch a glimpse of our Monthly Celebration
After having an unforgettable experience, we gave a mic to 27 new employees who joined the squad in December 2019. They shared their experience, their expertise, and the most challenging and best project they have ever worked on.
We also distributed awards to the deserving candidates for their outstanding performance and asked them to share their course of actions so other employees can learn the approaches and frame of the mind of the winners.
At last, we celebrated the birthdays of the employees who took the first breath in the month of December!
Want to work at Coruscate – a top IT company in Surat? (We're hiring!)
 Coruscate is the top IT company in Surat which always hires local talents to address global issues. We offer contract-free entry, free drinks & snacks, free study resources, medical package, and an opportunity to work with global clients.
To check the current job openings and apply online, visit our Career page.