Company insights of March 2020: Withstanding COVID-19 with client appreciation, Donations to PM Cares Fund, human readiness, and employee-centric work policy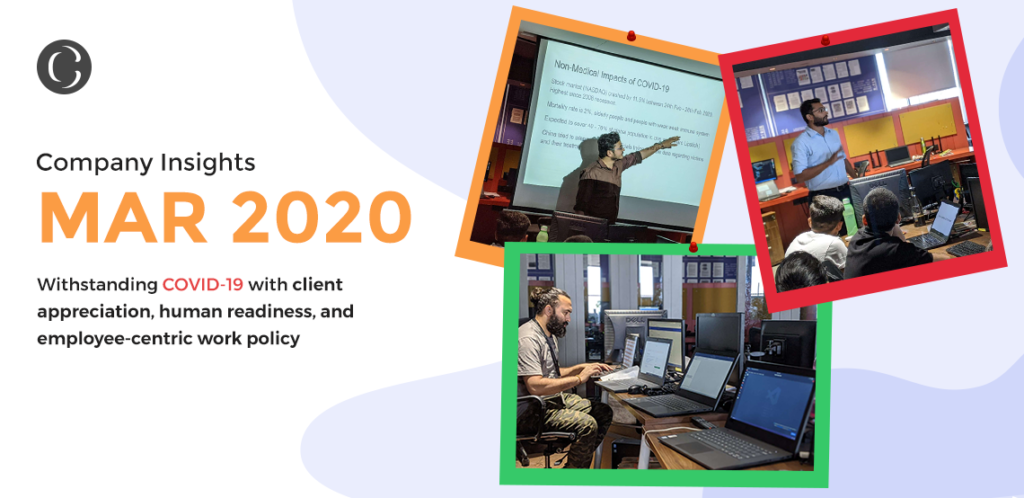 When the life around you is in crisis, then your intelligence, your wisdom, your sense of balance everything is of utmost value. We believe in this saying, as we have felt it in the past couple of weeks with effective implementation of work from home.
» Celebrating the success of Dabeeb e-scooter application:
A few months ago, Saudi Arabia based startup – Dabeeb approached us to develop an e-scooter application. While studying analytics, our business experts found an opportunity to expand the idea by covering multiple vehicles in the fleet and drew their attention.
They loved the idea and went with it. Outstanding features like an In-built wallet and multiple vehicle integration helped them to hold a supreme position in the market.
The Coruscate team feels honored to serve the Dabeeb.
» Breaking the myths about coronavirus by spreading knowledge:
Change is the only constant in life and the first step towards change is acceptance and later comes knowledge.
In line with this insight, the Coruscate has organized a coronavirus awareness seminar on March 6, 2020. CEO and core team members educated 100+ employees about the disease. Detailed discussions on symptoms, mitigation and prevention was held. The Coruscate has requested all the employees to not get panicked or carefree.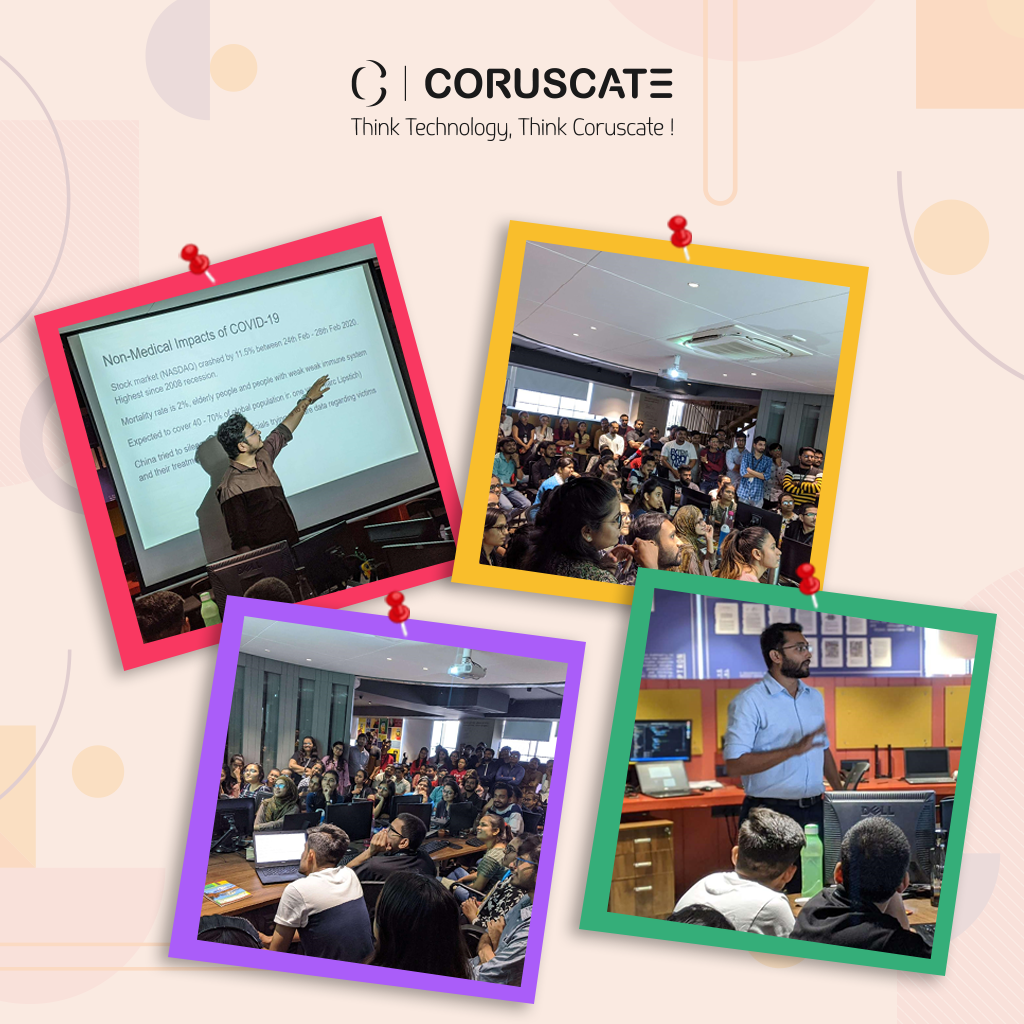 Though the outbreak was not spread in India at the time, the Coruscate has already planned the preparedness policy if the situation gets worse. The global impact of COVID-19 in business in general and tech sector in particular and how we should be prepared for that was too discussed at the seminar. Sharing all the farsighted plans with the employees, helped us to build confidence and faith amongst them. 
» New Pandemic Policy: Declared new policy for Employees soon after WHO declared it as pandemic
Soon after WHO declared it as a pandemic, we modified our work policy. As precaution is always better than a cure.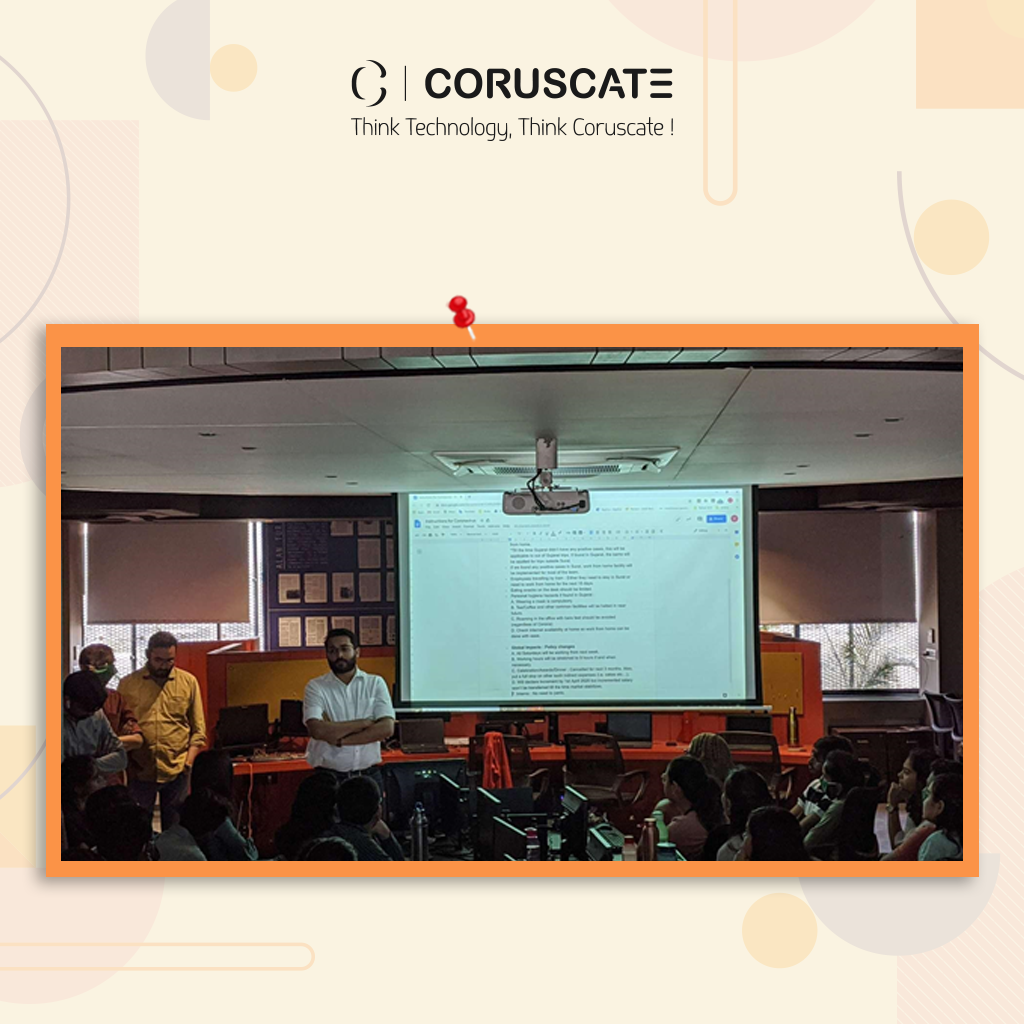 We added some hygiene routines at our workspace. E.g. washing hands frequently, avoid walking barefoot in the office, eating snacks on the desk should be limited. Peoples having a cold and cough are requested to wear mask compulsory and in some cases asked them to start work from home till they recover from it.
Till the time Gujarat had not reported any cases, it was mandatory for employees to follow the travel guidelines. If an employee is going outside Gujarat, they need to share their travel plan with the HR/Admin team. If they are visiting public places, they need to stay for 15 days at home and can choose to work from home. The same was going to apply for outside Surat if any case found in Gujarat and 100% work from home if any case found in Surat. Also, we decided to stop all common services like serving tea/coffee if any case found in Gujarat. Later, we removed the attendance punching machine as well to avoid contact with multiple peoples at the same place.
» Immediate action when pandemic has reached Gujarat:
From 17 March 2020, we made work from home compulsory for 15+ employees to avoid traveling through public transportation. We arranged resources (Keyboard, screen, laptops, etc) for them on short notice and delivered them to their homes.
» Ensuring the safety of our employees and continue working for the client's business goals:
When conditions were serious in India, on 20th March 2020 we handed over the laptops and other required hardware to all the team members and made work from home compulsory for all the employees from 23rd March 2020.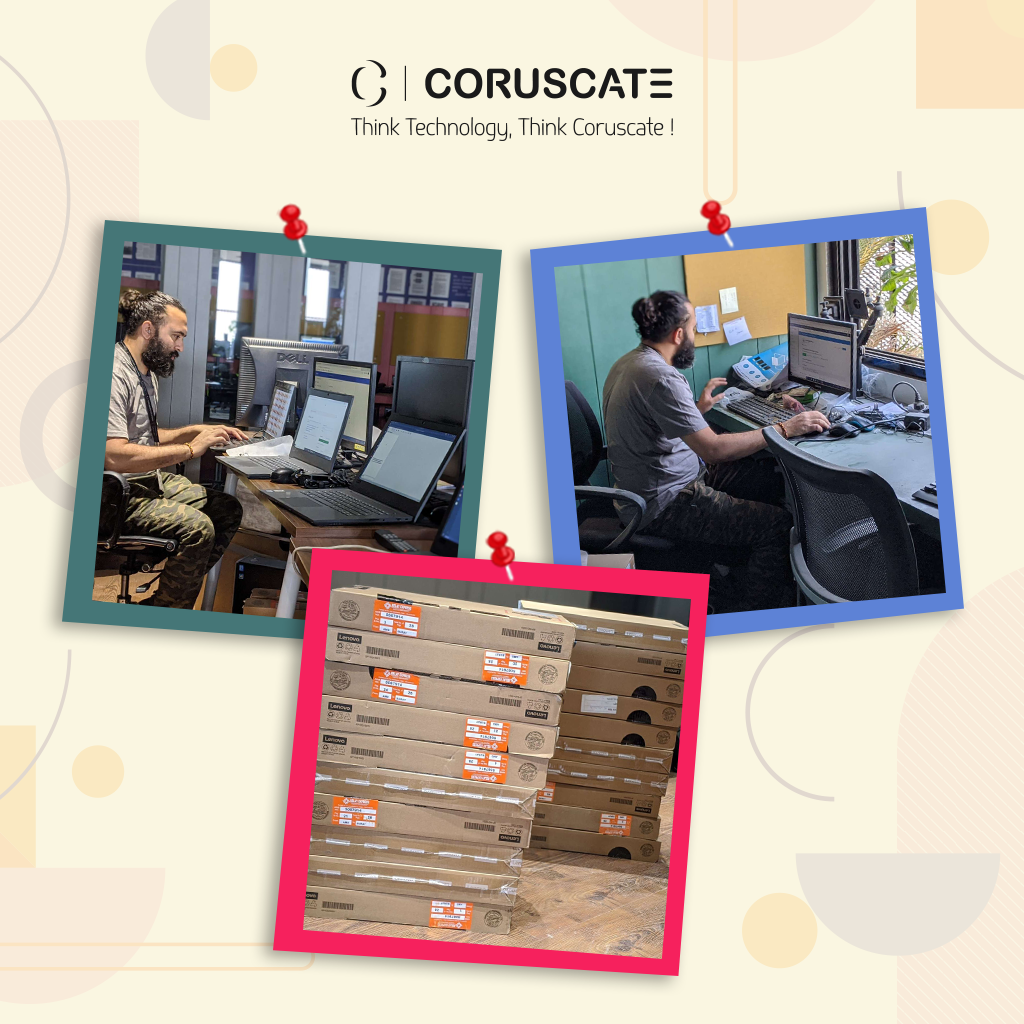 Our priorities were very clear in those unsettled situations. Ensuring the safety of our employees and continuing working for the client's business goals. Before 21st March our IT team worked day and night to create a strong digital infrastructure to make remote working smooth and effective.
The Coruscate has always committed to its work and delivering services and solutions on time. We always stayed connected to our clients and went the extra mile to serve them well in this pandemic situation.
» Donations to PM Cares Fund to fight COVID-19
"Every little bit you get added to the little bit you've got makes just a little bit more"
Coruscate took an initiative to support the people who were infected with the coronavirus and stood up to help the country in this tough situation. Some of the team members (Mr. Hitesh Kakadia, Mr. Ankit Virani, Mr. Rahul Shingala, Khyati Bhagat, Khushbu Desai, Mayur Amipara, Brijesh Rashiya, Priyanshi Jariwala, Mayur Vadher, Kishan Radadiya, Chintan Rajpara, Mihir Patel, Dhruv Raval, Priyanka Shah, Karan Joshi) voluntarily donated to the PM Cares Fund. All the employees supported whole-heartedly for the common good. We want to say a big thanks to each and every person who contributed.

Here we want to appreciate Mrs. Kairavi Baxi, who took such a serious step and asked the company to postpone her half salary until the pandemic situation gets resolved. We appreciate her empathy and are glad of having an employee like her.
» Want to work at an awesome place? (We're hiring!)
After reading so far, if you have made your mind to work at Coruscate – a top IT company in Surat, we have good news for you – We're still hiring. We offer contract-free entry, free drinks & snacks, free study resources, medical package, and an opportunity to work with global clients.
To check the current job openings and apply online, visit our Career page.