Company Insights of DEC 2019: Welcoming new techies and a smart machine, at top IT company in Surat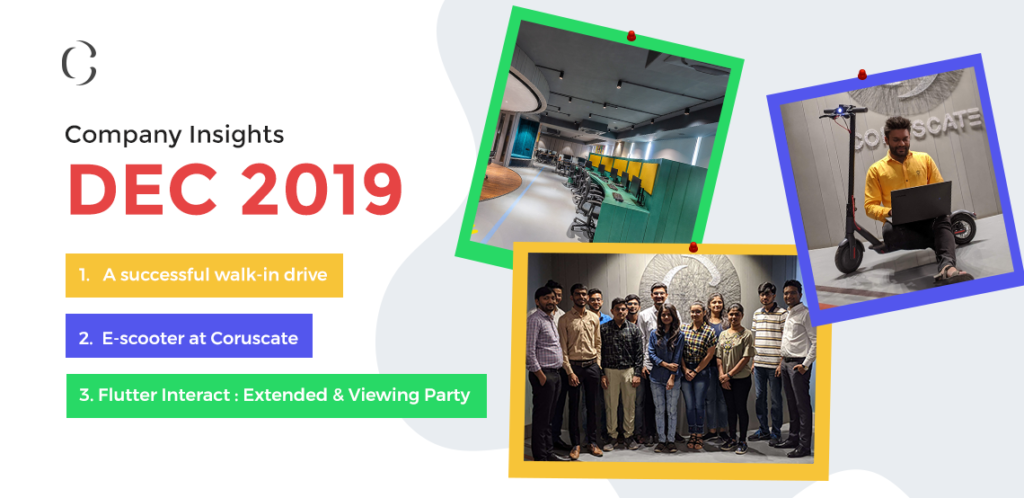 Talent wins games, but teamwork and intelligence win championships – Michael Jordan
This famous quote is the reason why we always have professional and personal achievements to celebrate. Coruscate is the people-driven company where every employee and business partners work together and discover their roles to solve deep-rooted problems. Their roles aren't always the same, but their goal always remains the same – engineer a software and mobile app which improve the lives of people.  
Encouraging transparency, think long-term, learn and teach, share the pain, take responsibilities of everything, and focus on results and getting better are the core values of us as Coruscate. Which indirectly lead us to success for customers and success for us.
In the last 15 days (1 December 2019 to 15 December 2019), we did justice with our 3 out of 6 values in the best possible ways.
We arranged a week-long recruitment drive to strengthen our team and to get better. We thought long term and ordered our first ever smart e-scooter to conquer the micro-mobility industry more aggressively. And one of our team members got selected as the lead speaker at the Flutter Extended and Viewing Party event to share his already earned knowledge with other people.  
 So, in this first blog of the 'Company Insights' series, let's discuss the cause, execution and outcome of our 3 major achievements of the last 15 days.
Following are 3 things Coruscate, a top IT company in Surat, has achieved in the last 15 days
A week-long recruitment drive at the top IT company in Surat
(Cause) Coruscate is made out of vision and people. And we have the vision but to satisfy that vision we were lacking the people until 7 December 2019! Because, from 8 December 2019 to 15 December 2019, we organized walk-in interviews as well as off-campus drive for the local talents to be part of our company and work with global clients.
(Execution) For off-campus drive, we worked with two well-known universities of our locality named SSASIT and Auro University and welcomed 20 candidates from these two colleges. On arrival, we greeted them and made them aware of our company values, vision, cultural and course of actions. To evaluate their technical knowledge as well as thinking and reasoning skills, we conducted a written test. Candidates who scored above the threshold were later sent for the panel interview. Before the panel interviews, we offered lunch to all 20 candidates and then distributed interview results to each candidate. Interview reports of the candidates who didn't get selected for panel interview or failed to impress our panel were shared verbally with the reasons so that they can know their limitations and work on it to secure a much better job in future.
Talking about the walk-in drive, it was our first time when we decided to let any candidate come at Coruscate at his preferred time and we must mention that it was our best decision! Initially, we were thinking of only one day, but considering current open positions we experimented the walk-in drive to 7 days. During those 7 days, we tried our best to spread the knowledge of this opportunity among the local talents. For that, we promoted it on several social media platforms.
(Result) In these 15 days, we took the interviews of 50+ candidates (Walk-in and other prospects) for various technologies & positions and hired 7 new employees (2 Business Analyst, 1 HR Generalist, 1 DevOps Engineer, 1 Android Developer, 1 MERN Stack developer).
Apart from that, we welcomed 12 interns (Flutter developer, MERN Stack developer, AI scientist) and 3 Employees (2 MERN Stack developer and 1 Content Writer) to our family.
(Happy faces of candidates reveal all!)
Receiving our first ever smart e-scooter at the doorstep of Coruscate
 (Cause) We are the early player in the micro-mobility industry and we are making people fond of watts. In the last two years, during the rapid economic growth of the micro-mobility industry, we have worked with many e-scooter rental startups and developed many e-scooter apps. But we always faced a problem to push the boundaries of e-scooter hardware using e-scooter software as we did not have own e-scooter which we could use only for research purposes.    
(Execution) When a few developers and team leaders forwarded this problem to the management team of the Coruscate, they took it into account and surprised those developers and team leaders with the new smart e-scooter, imported all the way from Malaysia. This action of our management team clearly depicts that regardless of the cost of the resource, they make it available for the developers who really want to get some hands-on experience which is, by the way, beneficial for the future of the company as well as for the future of the developers.
(Result) A few IoT engineers and developers have been understanding the technical functionalities of IoT controller of that e-scooter and exploring possible ways to make that e-scooter work beyond expectation since we have received it at Coruscate, a top IT company in Surat. Looking at their countless efforts, it seems like they will soon come up with a very groundbreaking discovery.  
 
Our Commander, Sandip, is ready to give his first public speech
At Coruscate, we have successfully created a work environment where employees can cultivate many other skills rather than just technical skills. Public speaking is one of them. Our one of the very well-versed developers got selected as the lead speaker at the Flutter Extended and Viewing Party event which is going to be held in Surat on 22 December 2019.
Sandip has a total of 3.5 years of experience in the IT industry and since the past one year, he has been working in the Flutter team as the Manager. The only reason why Sandip got selected as the lead speaker is because of his expertise in Flutter app development. In fact, he is the best Flutter developer we have at Coruscate.  
In this Flutter event which is organized by Google Developer Group, Sandip is going to share his earned knowledge about 'app optimizing using Flutter'. Also, Coruscate is a venue partner for this event and event is going to be organized at our Surat office.
Want to work at the awesome place? (We're hiring!)
After reading so far, if you have made your mind to work at Coruscate – a top IT company in Surat, we have good news for you – We're still hiring. We offer contract-free entry, free drinks & snacks, free study resources, medical package, and an opportunity to work with global clients.
To check the current job openings and apply online, visit our Career page.